Ecospace® Complete Certifications And Standards
---
When It Comes To Our Eco-Friendly Product Line, We "Walk The Walk" In Every Possible Way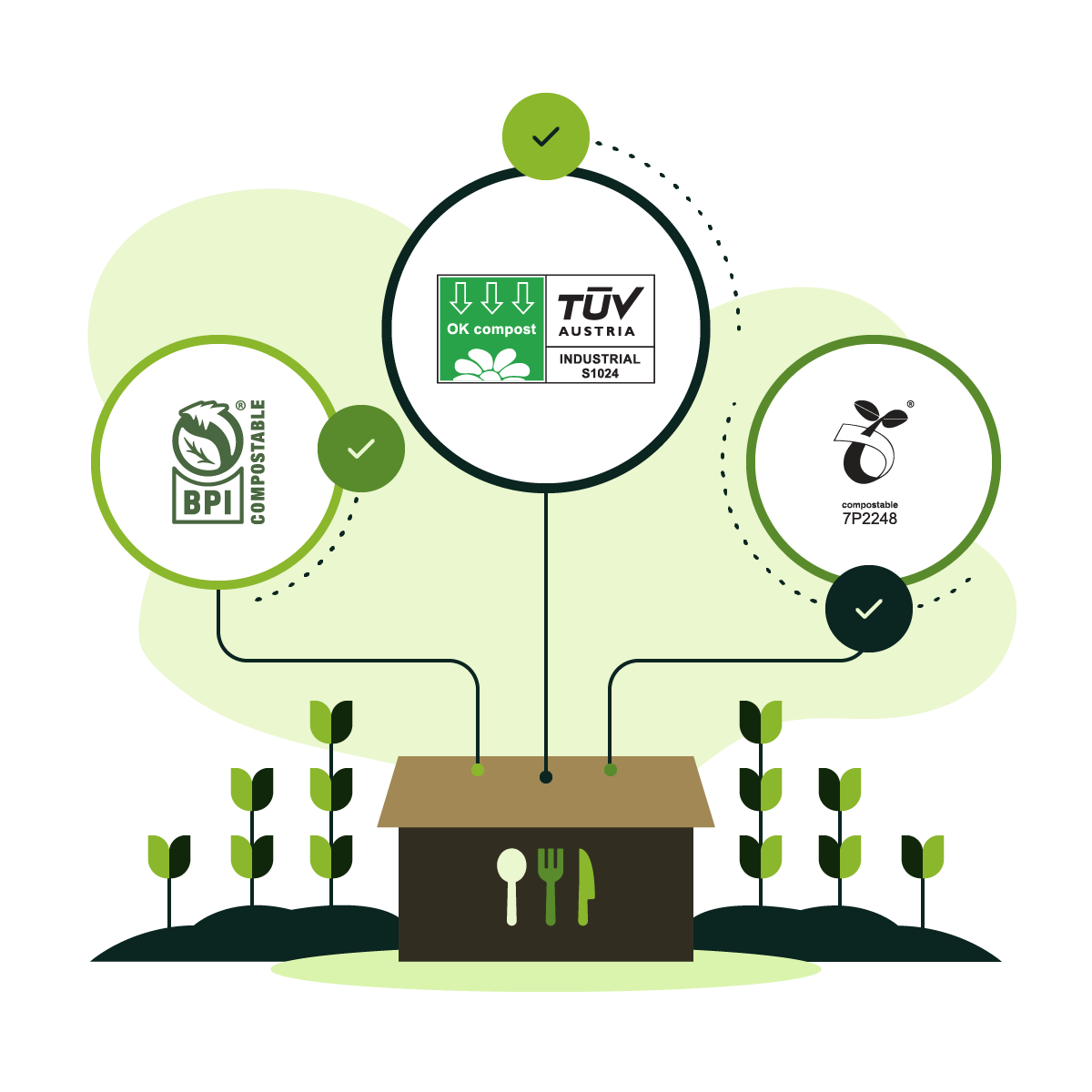 Biodegradation
Materials return to soil through microbial action at the same speed as cellulose paper.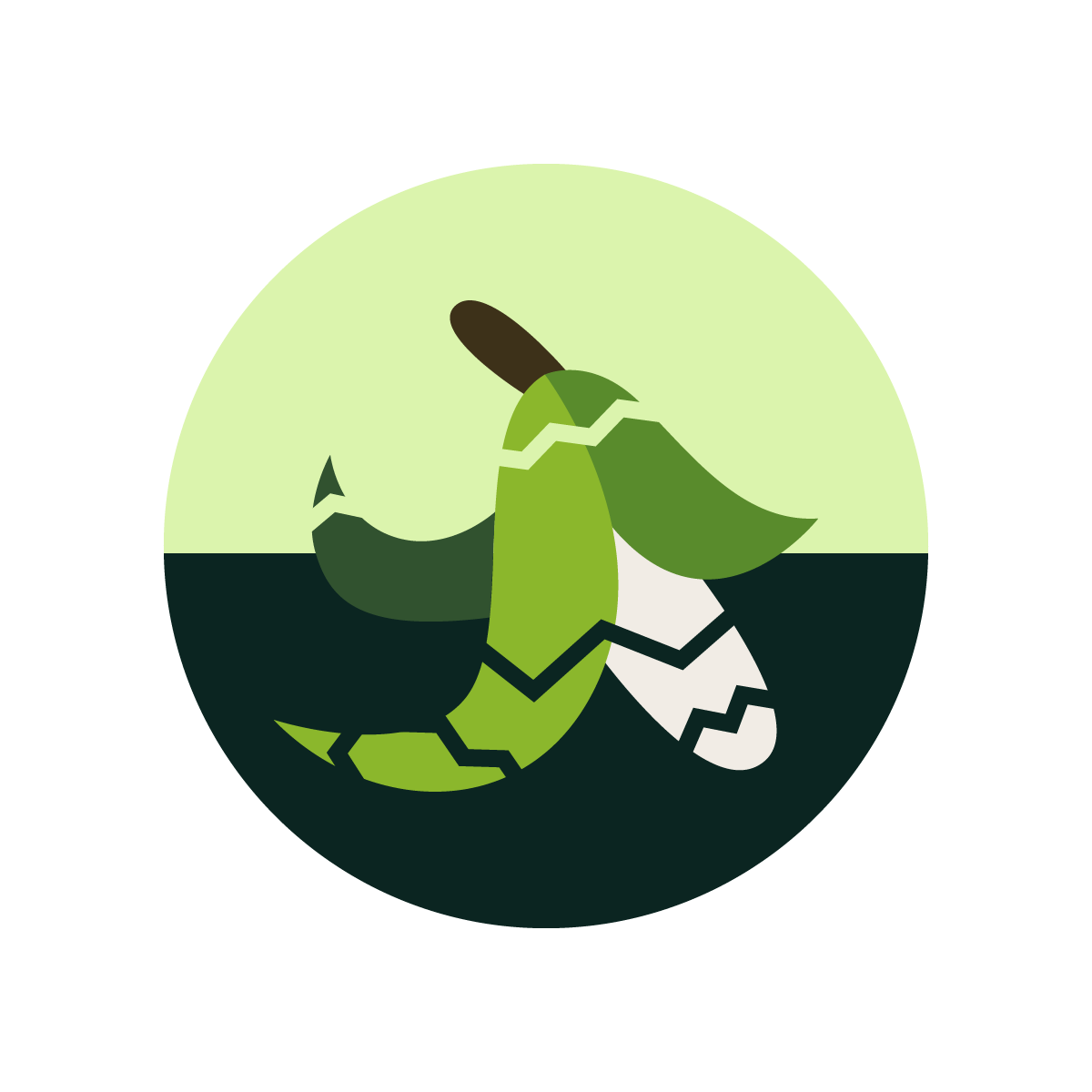 Disintegration
The materials crumble into SAFE tiny pieces and finally disintegrate.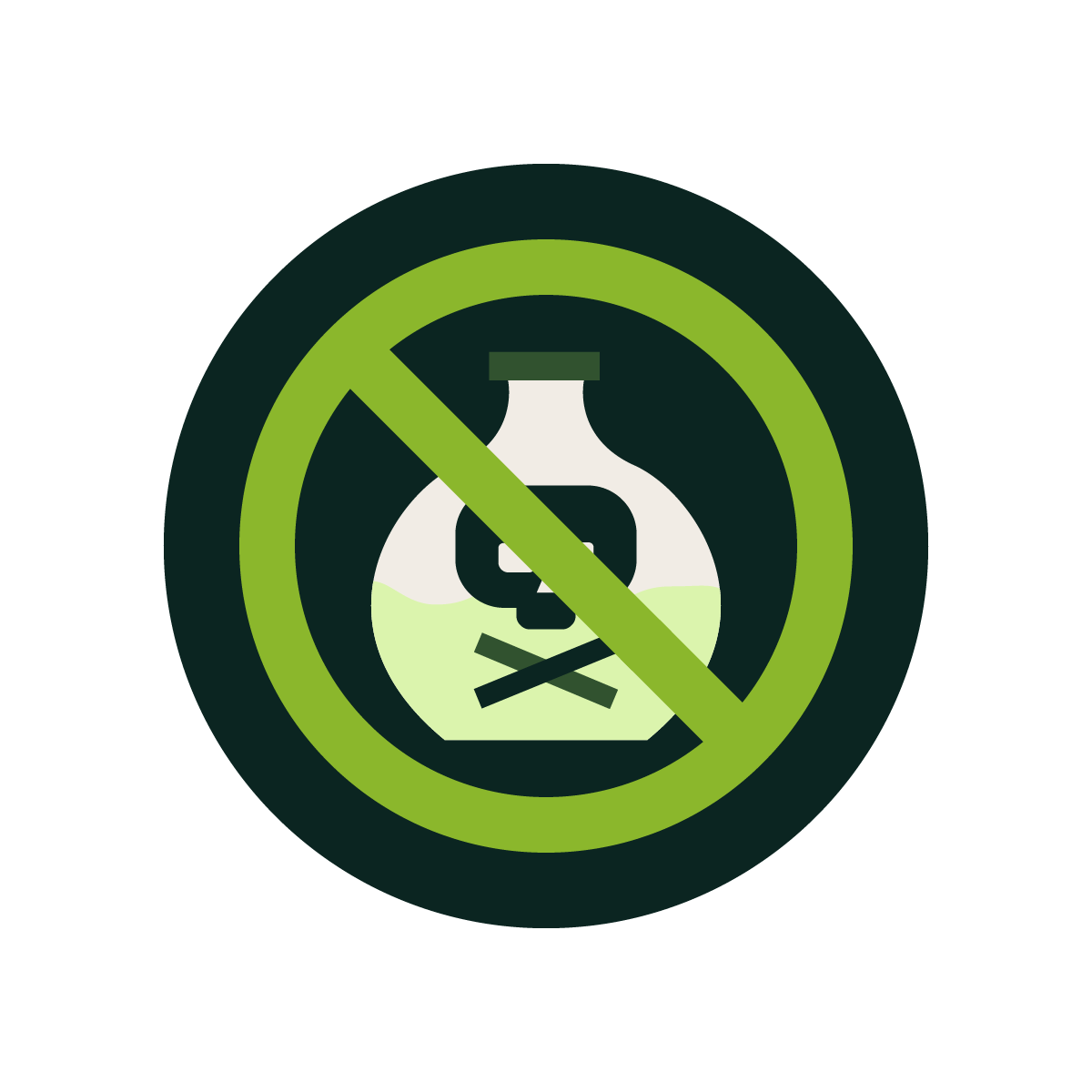 Non-Toxic
The resulting compost provides the vital nutrients that allow seeds to grow.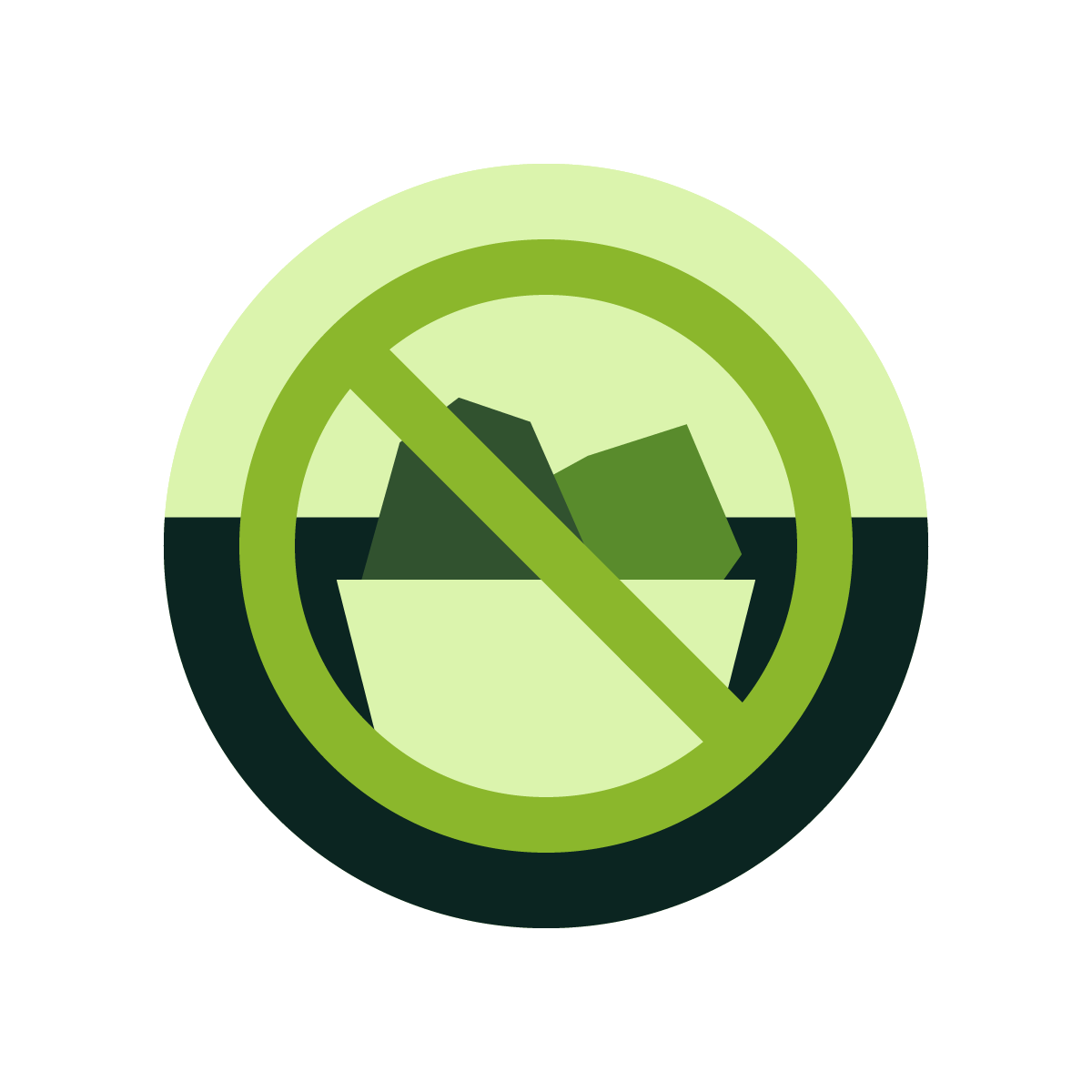 Lack of Heavy Metals

 
The compost is safe and doesn't contain a significant amount of heavy metals.
Certifications & Standards
---
The unpopular truth is, there are many "eco-friendly" and "vegan" brands out there who don't live up to their carefully-preserved reputations. Some of the biggest brands in the world, for instance, don't embrace sustainable or compostable packaging for their products.
In this day and age, there is no excuse for including downright dangerous petroleum-based plastics anywhere in your packaging or products, yet most eco-friendly companies still do.
This page is where we show that Ecospace® is genuinely different. We jump through every hoop imaginable to get our products and packaging certified by all significant oversight committees. Here is where we've documented our certifications and standards.
Living Up To The Highest Standards
Ecospace® products are built in complete compliance with every one of the following standards.
---
International Compostable Standards
These standards overlap in quite a few areas, providing the following guidelines: Biodegradtion, Disintegration, Non-Toxicity, and the Lack of Heavy Metals.
European Standard
EN 13432:2000 and EN 14995:2006
Food Contact Materials Standards
We uphold the highest international food contact materials standards available, ensuring the exceptional safety and quality of all food that comes into contact with our products.
European Framework
Regulation EC 1935/2004 for all food contact materials.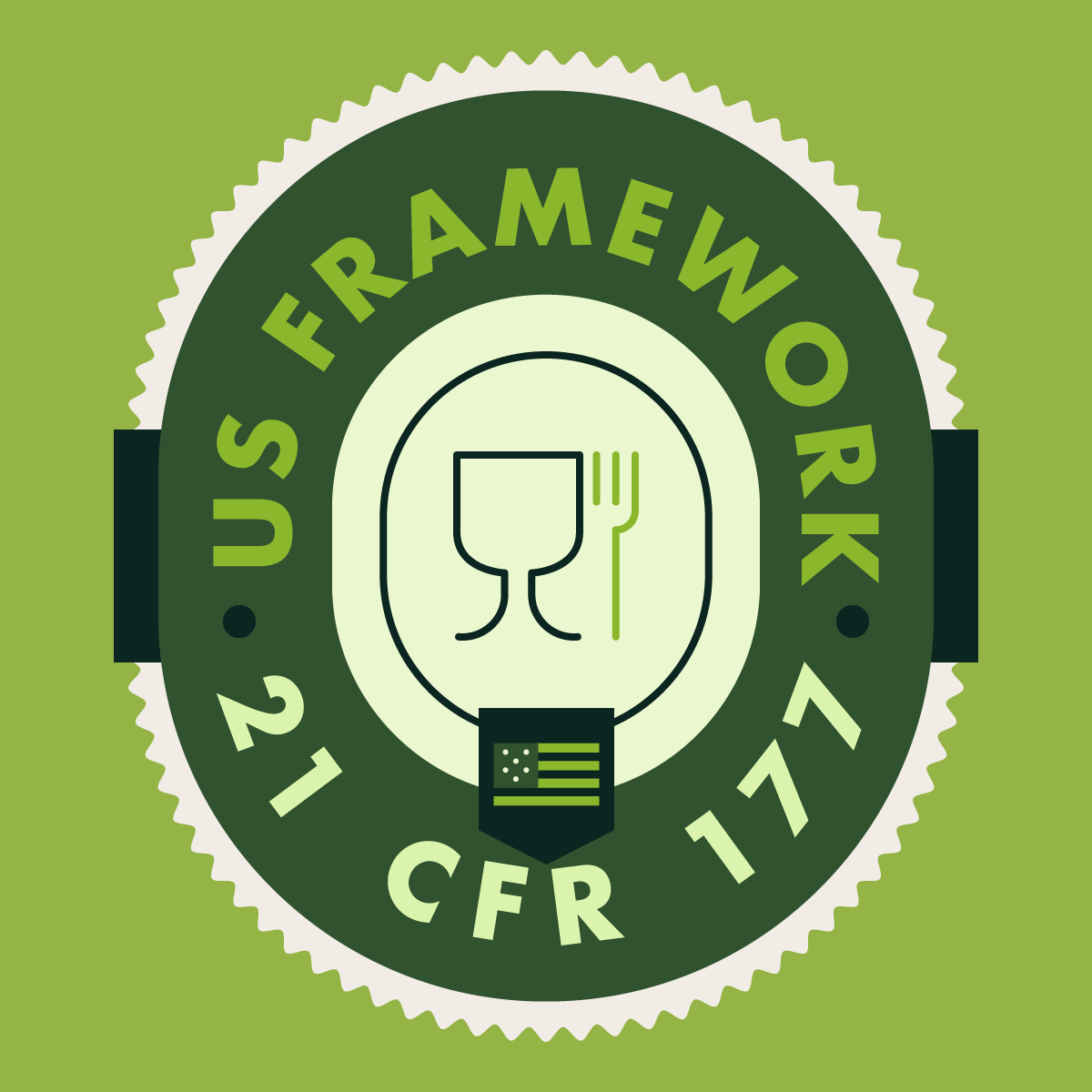 US Framework
21 CFR 177 for indirect food additives
YOUR TRUST MUST BE EARNED
Certifications Represent Our Investment In Your Trust
Ecospace®'s entire line of products and packaging is 100% compostable. But we don't expect you to take our word for it! The following composting authorities have independently certified our products because they are proven to break down in under 12 weeks.
---
---
OK Compost certifies Ecospace® products to be compostable in an industrial composting facility within a 12-week timeframe. This means that they return back to enriched soil without any traces of toxicity.
The most common industrial methods of composting are aerated windrow, which involves a pile of compost 14-16 feet in diameter and approximately 4 feet tall, or in-vessel composting with mechanical turning capabilities.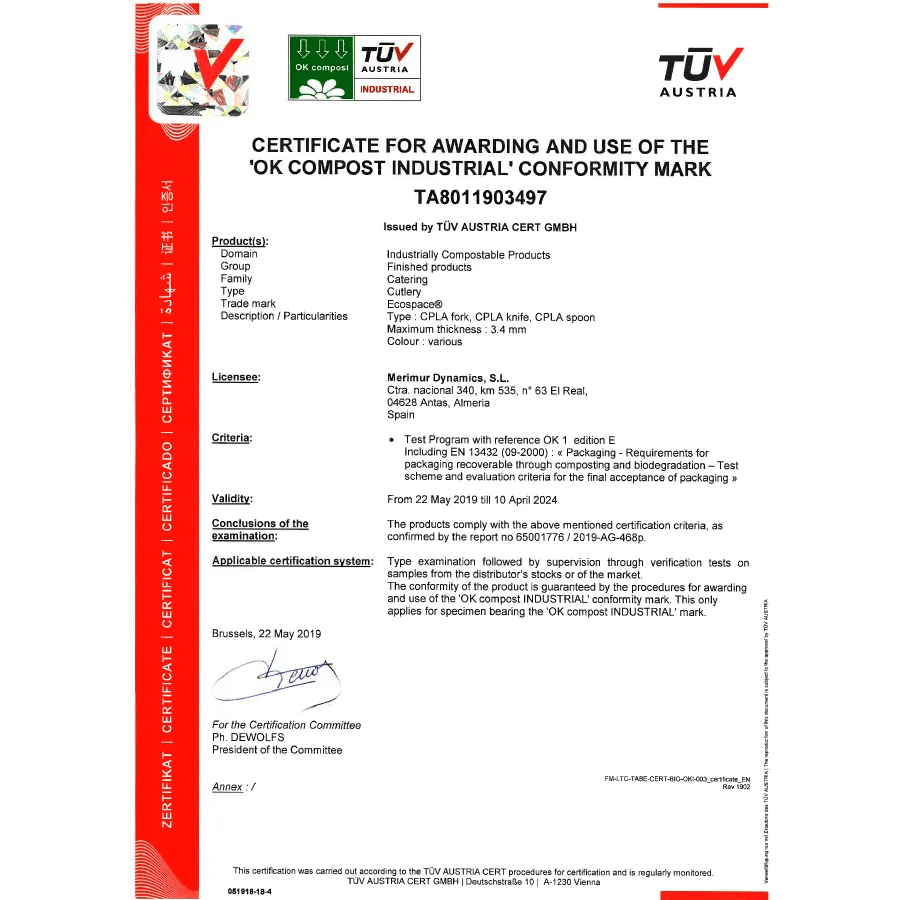 ---
This certification states that our products will fully compost under controlled conditions such as temperature, moisture, and time frame leaving nothing behind except for water, biomass, and CO².
The process is the same 12-week industrial process. Seedling certification helps consumers reliably identify the difference between compostable and regular plastic with only the addition of a simple logo.
AWARDED BY BIODEGRADABLE PRODUCTS INSITUTE
---
BPI is North America's leading certifier of compostable products and packaging. They utilize independent accredited labs to product compost using industrial methods and best practices, and measure the results based on ASTM D6400 testing standards.
BPI certification proves beyond a shadow of a doubt that the tested materials will compost in a commercial facility within 12 weeks. Furthermore, all products must be proven to leave absolutely no toxic residue or lingering plastic byproducts in the soil.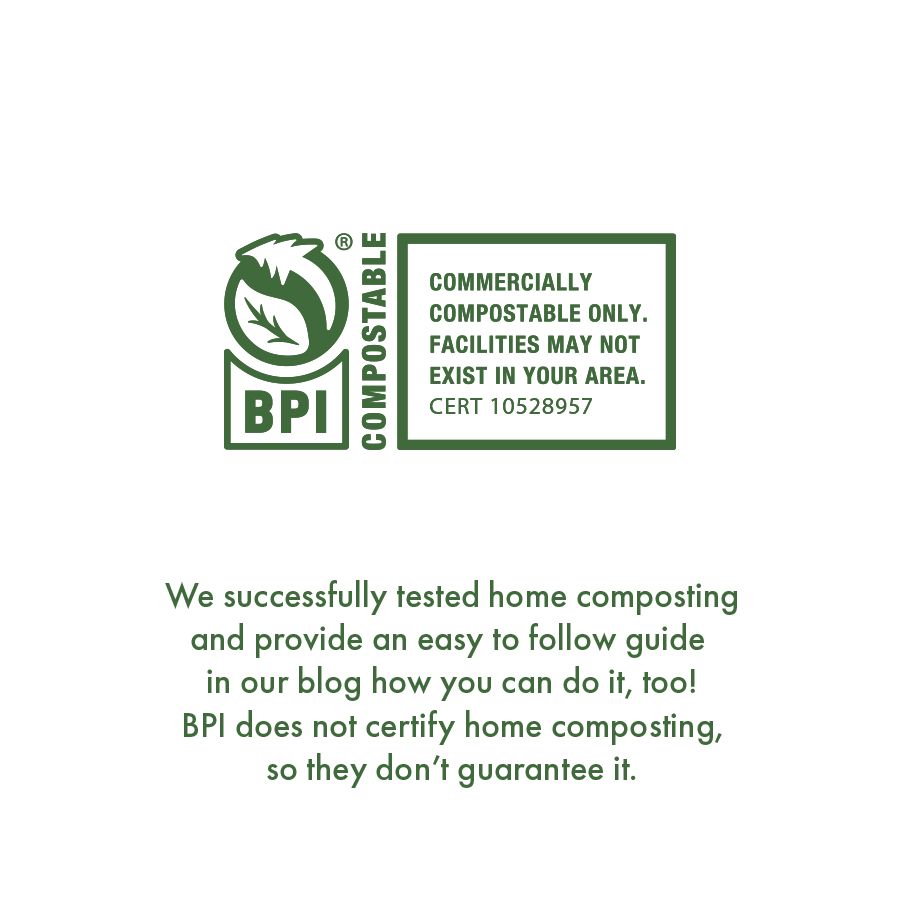 Additionally, Ecospace® is so dedicated to our genuine compostable packaging materials and products that we consistently and repeatedly test our own products to make sure they break down easily and can be included in industrial food waste recycling.
We even offer free composting pickup services anywhere in the US, Canada, EU or UK.
Here's What's Next! Our Pending Certifications
Ecospace® is always evolving and striving to become more eco-friendly each and every day. That's why we're going the extra mile - applying for further certifications as we speak. Here is what the future looks like:
---
CERTIFICATION STATUS: Next Application
Certified Vegan by Vegan Awareness Foundation  
The Certified Vegan Logo is a registered trademark, similar in nature to the kosher mark, for products that do not contain animal products or byproducts and that have not been tested on animals. The certified logo is easily visible to consumers interested in vegan products and helps vegans to shop without constantly consulting ingredient lists.
The Certified Vegan Logo is currently on thousands of products manufactured by over 1000 companies.
CERTIFICATION STATUS: Next Application
Compost Manufacturing Alliance (CMA)
CMA is a U.S. national organization that runs 20 compost processing facilities using multiple technologies throughout the country. Their goal is to help cities, businesses, and residents to accomplish zero-waste by certifying the compostability of food service ware.
Therefore, they offer a program of technical review and field testing of compostable products and packaging. Certification through this alliance signifies that the product can be used as fertilizer for new plants after completing a 12-week composting process.